Del Mar, CA – After sixty-eight entries galloped on course in the $25,000 Markel Insurance 1.40m Grand Prix, Uruguay's Juan Manuel Luzardo and Mauricio Guerra's Stan were double clean and fast for an exciting win. Run in conjunction with and over the same track as the Markel Insurance 1.40m Grand Prix, twelve riders competed in the Interactive Mortgage U25 Qualifier with Taylor Harris aboard Harris Equestrian LLC's Kavanagh IV taking the top call.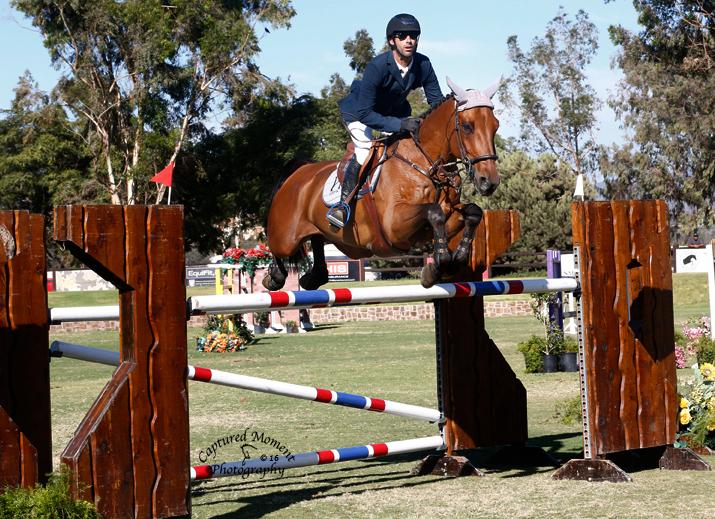 Juan Manuel Luzardo and Stan
International course designer Manuel Esparza (MEX) commented on the challenge of designing a 1.40m track for a group of competitors that ranged from up-and-coming U25 riders to veteran show jumpers. "I wanted to make a competitive yet safe course. I used a lot of technical elements, like a triple bar to a skinny (fences 4 and 5), a plank on the top cups (fence 6) plus the liverpool pushed to the back of the vertical at fence 10," he noted.
Combined with a few distances that required a choice of adding or leaving out a stride and a tight time allowed, he was looking to have about a dozen clear as well as a couple clear from the U25 class.
After all of the competitors took the track, Esparza's prediction was quite close, with fourteen clean in the Markel Insurance Grand Prix and two in the Interactive Mortgage U25 qualifier, who returned to jump off with a score of one time fault each. Another fifteen entries barely missed the mark by having only time faults added to their otherwise clear round.
When asked about the track, Luzardo commented, "The course was very tough, with so many entries and only fourteen clear. The time was extremely tight, which made the lines and combinations a little challenging throughout."
Six entries went double clean. Michelle Parker riding Cross Creek Farm, Inc.'s Cupilor set the pace early on with a clean ride in 39.36. Fourth to go, Frenchman Eric Navet aboard The Flying Ham (owned by Signe Ostby) raised the bar, leaving out a stride and taking inside turns, to stop the clock in a seemingly unbeatable 37.47.
Eric Navet and The Flying Ham
Luzardo and Stan galloped in the eighth spot in the order. He had not watched Navet's round, but knew the track he had taken. Although 'Hammy' has a large stride and covered the ground well, Stan matched that effort. Shaving .58 seconds off the leading time, Luzardo clocked in at 36.89. None of those who followed could come close to catching him.
Not new to the winner's circle, Luzardo and Stan, a 10-year-old Hanoverian gelding, started off the year with a CSI4* win in the Longines FEI World Cup™ Jumping Valle de Bravo. Luzardo said, "Stan is absolutely amazing. I bought him in Germany when he was seven. Last year, I was able to take him to the Pan American Games and recently won both the grand prix classes in Coronado."
Juan Manuel Luzardo and Stan celebrate the win with groom Jesus Eduardo Aceves and Melissa Brandes of Blenheim EquiSports
Even with Mexico's strong FEI calendar, a large group of talented riders come to southern California for several weeks in the summer. "I love Showpark here in Del Mar. The main ring is amazing and the city is wonderful. Being able to combine the sport and vacation, we always have a great time," Luzardo remarked.
With the $30,000 Summer Festival Grand Prix on Sunday afternoon, and two more weeks of grand prix classes scheduled at Showpark, Luzardo will potentially lead the victory gallop once again.
Taylor Harris and Kavanagh IV Win the Interactive Mortgage U25 Developing Rider Series Qualifier
Harris, who went into the jump-off with one time fault, felt the first round track was appropriate for the field. "The course designer did a great job making the time tight and doable."
Also scoring one time fault in the first round, Morgan Dickerson joined Harris in the round against the clock. Riding Cala d'Or 3, he had the time but a rail on course gave him a score of four faults. Harris followed with a clean and conservative round for the win.
Harris and Kavanagh IV, 'Kenny' in the barn, won this class in June as well. Training with Jim Hagman and Susie Hutchison, which she says is a great combination, Harris balances her full time job with riding, and appreciates that her job gives her the flexibility to compete.
Taylor Harris aboard Kavanagh IV
As for her favorite show, "I grew up in Orange County, so showing in San Juan Capistrano has always been one of my favorites. I also love this ring here in Showpark. The ambiance and footing make it a great ring. It's a close first and second!" She continued, "A big thank you to Interactive Mortgage and Blenheim EquiSports for hosting this fantastic event."
Both Harris and Dickerson are vying to finish the series in the top 25 for an invitation to the inaugural $25,000 Interactive Mortgage U25 Final in November at The Las Vegas National. Four more qualifying classes will be held during the 2016 show schedule through September.
The host of showcase events continue this week in Del Mar at the Showpark Summer Festival. The jumper highlights include the Interactive Mortgage Horses 10&U Futurity qualifier on Saturday, and the $30,000 Summer Festival Grand Prix on Sunday.
RESULTS
$25,000 Markel Insurance 1.40M Grand Prix
Place – Entry Number – Horse – Rider – Owner – Faults/Time
1. 894 – Stan – Juan Manuel Luzardo – Mauricio Guerra – 0/0/36.896
2. 223 – The Flying Ham – Eric Navet – Signe Ostby – 0/0/37.472
3. 819 – No Limit – Jose A. Martinez – Jose A. Martinez – 0/0/38.127
4. 230 – Cupilor – Michelle Parker – Cross Creek Farms, Inc. – 0/0/39.364
5. 917 – Amalia – John Perez – John Perez – 0/0/39.403
6. 797 – ZZ Top – Pablo Viscaino – Pablo Viscaino – 0/0/39.472
7. 918 – Chianti Classico – John Perez – John Perez – 0/4/38.518
8. 818 – Nelson – Jose A. Martinez – Jose A. Martinez – 0/4/40.031
9. 468 – Parkmore Lux – Hanna Mauritzson – Ritz Fuente, LLC – 0/4/39.463
10. 833 – Rafale – Juan Carlos Del Campo – Juan Carlos Del Campo – 0/4/39.777
11. 882 – Chapilot – Rodrigo Lambre – Mario Onate – 0/4/40.031
12. 194 – Ziedento – Susan Hutchison – St. Bride's Farm – 0/8/39.242
13. 975 – Ballerino – Arturo Vallejo – Luciano Segovia – 0/8/40.962
14. 481 – Chello Z – Josephina Nor Lantzman – Josephina Nor Stables, LLC – 0/DNS
15. 963 – Discento – Felipo Godinho – Sergio Nieto – 1/78.211
16. 919 – Detroit – John Perez – John Perez – 1/78.328
17. 584 – Milano – Mandy Porter – Abigail Weese – 1/78.441
$5,000 Interactive Mortgage U25 Developing Rider Series Qualifier
Place – Entry Number – Horse – Rider – Owner – Faults/Time
1. 399 – Kavanagh IV – Taylor Harris – Harris Equestrian, LLC – 1/0/44.430
2. 701 – Cala d'Or 3 – Morgan Dickerson – Morgan Dickerson – 1/4/42.604
3. 181 – Go For Me – Santiago Vallarta – Santiago Vallarta – 3/80.332
4. 125 – Windoctro – Taylor Siebel – Mountain Home Stables, LLC – 6/79.127
5. 710 – Salerno – Kilian McGrath – KRM Equine, LLC – 6/79.506
6. 870 – Taquin de la Nutria – Juan Pablo Jimenez – Juan Pablo Jimenez – 8/74.575
7. 161 – SIG Caravaggio – Shota Soejima – SIG International – 8/77.487
8. 936 – Dukato – Jose Angel Arevalo – Jacobo Saaib – 8/81.184