Del Mar, CA – Sunday's competitive $30,000 Showpark Summer Festival Grand Prix wrapped up the first of three weeks of shows at the Del Mar Horse Park. After thirty-six entries attempted Manual Esparza's 1.50m track, with eight returning for the jump-off, it was Mexico's Simon Nizri and E Muze Yek (owned by SN Stables, LLC).
Simon Nizri and E Muze Yak. PC: Captured Moment Photography
Nizri had an opportunity to test the track, riding early in the order on SN Stables, LLC's Carone, the first of two he had in the class. Clean over the jumps but with three time faults, Carone ultimately finished ninth and Nizri knew what to do when he returned late in the class on E Muze Yek.
As seen in Thursday's Markel Insurance 1.40m Grand Prix, international course designer Manuel Esparza (MEX) expected riders to find an efficient track, making the time allowed one of the challenges presented on course. He certainly took it up a notch, setting a solid 1.50m course with a triple bar in line to a triple combination, several delicate jumps and a double combination at the end.
"I tried to set the safest course that I could with enough questions. This ring has a little slope, so I played a little bit with that. It walks like a normal distance, but when you ride the slope it rides totally different. They have beautiful material to work with so I used gates and colored gates and rails, material they haven't seen before now. My goal is to have faults spread throughout the course," Esparza explained. "And I would like to see between six and eight go clean."
Once again setting a track that achieved his goals, almost all of the jumps came down, time faults plagued a handful of entries and eight returned for the jump-off.
The excitement continued to build with each entry that went double clean. Peter Petschenig aboard Colour Your Life (owned by Pam Bilek and Peter Petschenig) were first to go fast and clean, setting the time to beat at 42.94. Although Arturo Vallejo and Luciano Segovia's Tarzan were quick in 37.49, they had 9a down, finishing fifth overall.
Lane Clarke and the big-strided Balu U (owned by Georgy Maskrey-Segesman) shaved almost a second off, finishing clean in 41.97 to take over the lead. However, it was short-lived, as Eric Navet took tidier turns on yet another mount with a big stride, Catypso, clean and fast in 39.57.
Eric Navet and Catypso. PC: Captured Moment Photography
Nizri watched Navet and knew the track he trusted his partner could take. E Muze Yek was up for the challenge, doing the inside turns with gusto, and even with a minor slip, they stopped the clock in 38.38 for the win.
Beaming with pride for the twelve-year-old E Muze Yek, known as 'Boss' in the barn, Nizri was thrilled with his performance. "I didn't have any expectations. This was his first horse show back since an injury in the winter. He hadn't shown in so long. I was wondering how he was going to be," Nizri said. "But I tell you, every time he goes in the ring he is a superstar. He impresses me each time. He is such a joy to have. I'm so lucky."
Navet commented on the young nine-year-old Catypso and gave a nod to Nizri's efforts. "Catypso is getting experience. He's very comfortable at 1.50m, but he needs to learn to go faster, which I worked on in this class. He has a big, slow stride, so if I turn too tight, his canter gets disorganized. I could've taken a bigger risk at the last fence. But I didn't want to open him up too much. I'm on my way, we are not there yet," he noted. "Simon's horse is very fast by nature. Simon rode amazing and he deserved to win."
Nizri beams after winning the $30,000 Showpark Summer Festival Grand Prix. PC: Captured Moment Photography
Both Nizri and Navet will return this week for the Showpark Racing Festival and the highlight $40,000 Showpark Racing Festival Grand Prix, presented by EquiFit, inc. And both have plans to compete in the World Cup qualifying classes, beginning at Thunderbird in August, then attending the The Las Vegas National in November. Each has a goal of earning an invitation to the Longines FEI World Cupâ"¢ Jumping Final in Omaha in the spring of 2017.
Michelle Parker Pilots Cupilor to Interactive Mortgage Futurity Win
Twenty horse and rider pairs competed in the Saturday afternoon Interactive Mortgage Horses 10 & Under Futurity Series Qualifier. Only two finished clean, Juan Manuel Luzardo of Mexico on Quidandro, and Michelle Parker aboard Cross Creek Farm, LLC's Vancouver 45. And Parker was the only double clean for the win.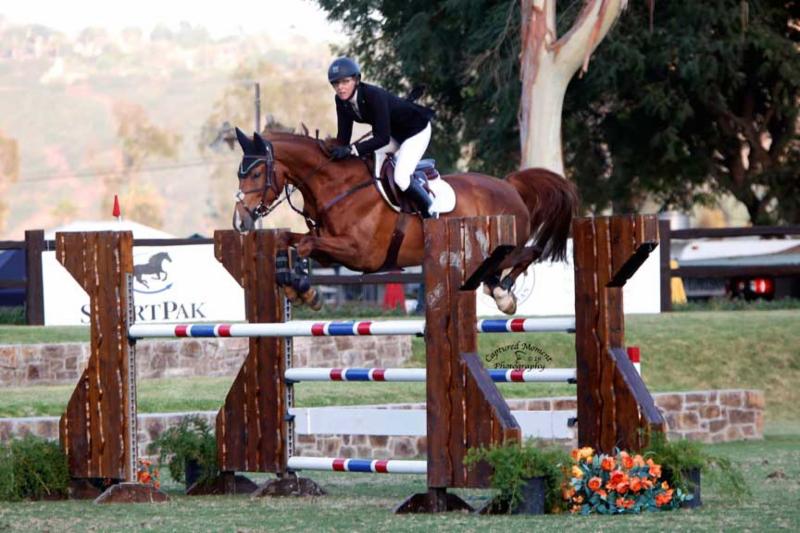 Michelle Parker and Vancouver 45. PC: Captured Moment Photography
With only one qualifying class remaining, Parker sits in the top ten on the top 25 list to return for the $20,000 Interactive Mortgage Horses 10 & Under Futurity Final in September at the Showpark All Seasons Summer Tournament.
The host of showcase events continue this week and next in Del Mar. Shifting the focus to the Junior Hunter and Equitation riders, today and Tuesday Blenheim EquiSports will host the US Junior Hunter Finals – West Coast and the inaugural West Coast Hunterdon Equitation Cup Classic. The Showpark Racing Festival offers several highlight classes, including a USHJA International Hunter Derby and the $40,000 Showpark Racing Festival Grand Prix, presented by EquiFit, inc.
RESULTS
$30,000 Showpark Summer Festival Grand Prix
Place – Entry Number – Horse – Rider – Owner – Faults/Time
1. 478 – E Muze Yek – Simon Nizri – SN Stables, LLC – 0/0/38.383
2. 217 – Catypso – Eric Navet – Signe Ostby – 0/0/39.571
3. 652 – Balu U – Lane Clarke – Georgy Maskrey-Segesman – 0/0/41.972
4. 237 – Colour Your Life – Peter Petschenig – Pam Bilek/Peter Petschenig – 0/0/42.941
5. 971 – Tarzan – Arturo Vallejo – Luciano Segovia – 0/4/37.499
6. 468 – Parkmore Lux – Hanna Mauritzson – Ritz Fuente, LLC – 0/4/42.207
7. 215 – Caillou 24 – Karl Cook – Signe Ostby – 0/4/47.287
8. 481 – Chello Z – Josephina Nor Lantzman – Josephina Nor Stables, LLC – 0/RT
9. 479 – Carone – Simon Nizri – SN Stables, LLC – 3/78.069
10. 240 – Saint Quentin – Peter Petschenig – Pam Bilek/Peter Petschenig – 4/70.954
11. 818 – Nelson – Jose A. Martinez – Jose A. Martinez – 4/73.003
12. 989 – Trebon de la Nutria – Martin Alejandro Jimenez – Carlos Perez – 4/74.182
$7,500 Interactive Mortgage 10&U Futurity
Place – Entry Number – Horse – Rider – Owner – Faults/Time
1. 234 – Vancouver 45 – Michelle Parker – Cross Creek Farms, Inc. – 0/0/38.384
2. 895 – Quidandro – Juan Manuel Luzardo – Mauricio Guerra – 0/4/35.271
3. 213 – Balando – Karl Cook – Signe Ostby – 3/78.356
4. 190 – Daify – Susan Hutchison – Veronica Tracy – 4/74.569
5. 191 – SIG Firecracker – Susan Hutchison – SIG International – 4/74.966
6. 869 – Relic L.S. – Juan Pablo Jimenez – Juan Pablo Jimenez – 4/75.079
7. 975 – Ballerino – Arturo Vallejo – Luciano Segovia – 5/76.139
8. 746 – Amiracle – Sarah Cillie – DP Racing – 5/80.331