Wellington, FL – January 20, 2018 – In the circuit's first nighttime grand prix, three-time Olympian Meredith Michaels-Beerbaum (GER) and Calle 67 won the $70,000 Marshall & Sterling Grand Prix CSI 2* at the 2018 Winter Equestrian Festival (WEF). The "Saturday Night Lights" series continues throughout the 12-week WEF circuit, held at the Palm Beach International Equestrian Center in Wellington, FL. Running through April 1, 2018, WEF offers more than $9 million in prize money.
The final highlights events during Week 2 of WEF include the $25,000 Hermès Under 25 Grand Prix and $35,000 Hollow Creek Farm 1.45m Classic, which will be held on Sunday, January 21.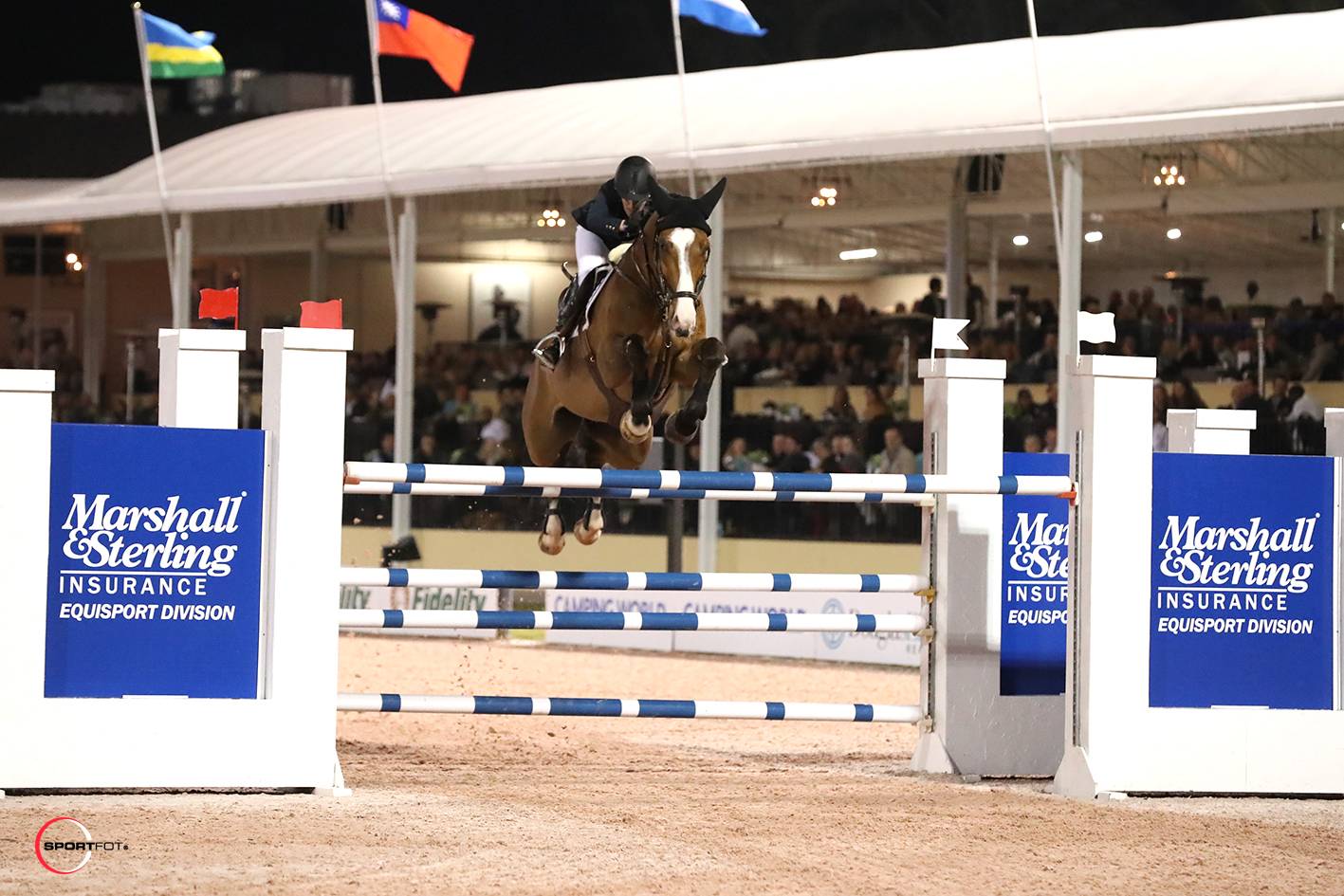 Meredith Michaels-Beerbaum and Calle 67. PC: Sportfot
Out of a starting field of 45 entries, nine found the way to a clear round to advance to the jump-off over a course set by Oscar Soberon (MEX). Coming back sixth in the jump-off, it was Michaels-Beerbaum and Calle 67, a nine-year-old Westphalian gelding by Carell x Capitalist, who had the fastest clear round in a time of 36.85 seconds to take the win.
Click to watch the winning jump-off ride for Meredith Michaels-Beerbaum and Calle 67!
"The course today was brilliantly set," said Michaels-Beerbaum. "I think that the course itself was challenging, because there were some spooky fences at the beginning of the course, and then it got technical down the last line and careful. I was really pleased with my horse because he's relatively new to that speed. I think I've only done one other jump-off as fast as that, so he was a little shocked and surprised, but he's so on my side. That's really what it takes to be a great horse."
Second place went to 21-year-old Lillie Keenan (USA) and Chansonette Farm's Skyhorse in a time of 37.01 seconds, while Emily Mason (GBR) placed third in a time of 37.58 seconds with Explosion W, owned by Poden Farms.
Podium (L to R): Lillie Keenan, Meredith Michaels-Beerbaum, and Emily Mason. Front (L to R): Ringmaster Steve Rector; Don Graves, Vice-President/Director, Equisport Division, Marshall & Sterling Insurance; Amelia Stasny, Account Manager; Sandra Seetaram, Account Manager; Kristy Clark; Equestrian Sport Productions CEO Mark Bellissimo; Elizabeth MacWilliam, Operations Manager; and Missy Sullivan, Senior Account Manager. PC: Sportfot
Fourth place went to World Number One Kent Farrington and Baltic Star 2, owned by Farrington and Tanma Corp., in 37.63 seconds, while Canadian Olympic Champion Eric Lamaze picked up fifth place on Artisan Farms LLC's Coco Bongo with a time of 39.02 seconds.
While Michaels-Beerbaum and Calle 67 competed in the young horse classes under the lights at Aachen CHIO, she did say that Saturday night's grand prix was "a major step up for that horse."
The top three enjoy a champagne spray. PC: Sportfot
"He's just turning nine this year," said the three-time FEI World Cup Jumping Final winner. "He hasn't done too many grands prix yet in his career. I was happy when I saw the course today that I had at least that round (in Aachen) under my belt. The course was quite spooky. Some of the fences at the beginning of the course were quite challenging for a green, young horse. He is a relatively new horse to my string; I've had him less than a year, but I adore the horse. He's got a wonderful mind and character, and he's always on your side, so it gives you a good feeling as a rider."
Keenan watched Michaels-Beerbaum from the in-gate and directly followed her in the jump-off, hoping to ride the same plan.
"It's always nice when you get to see someone do what you'd like to emulate," she said.
As a full-time student at Harvard University, Keenan took most of November and all of December off from competition, while her trainer Cian O'Connor competed Skyhorse, an 11-year-old Belgian Warmblood gelding by Calvaro x Quidam de Revel. She was pleased with a top finish in their first grand prix of the circuit.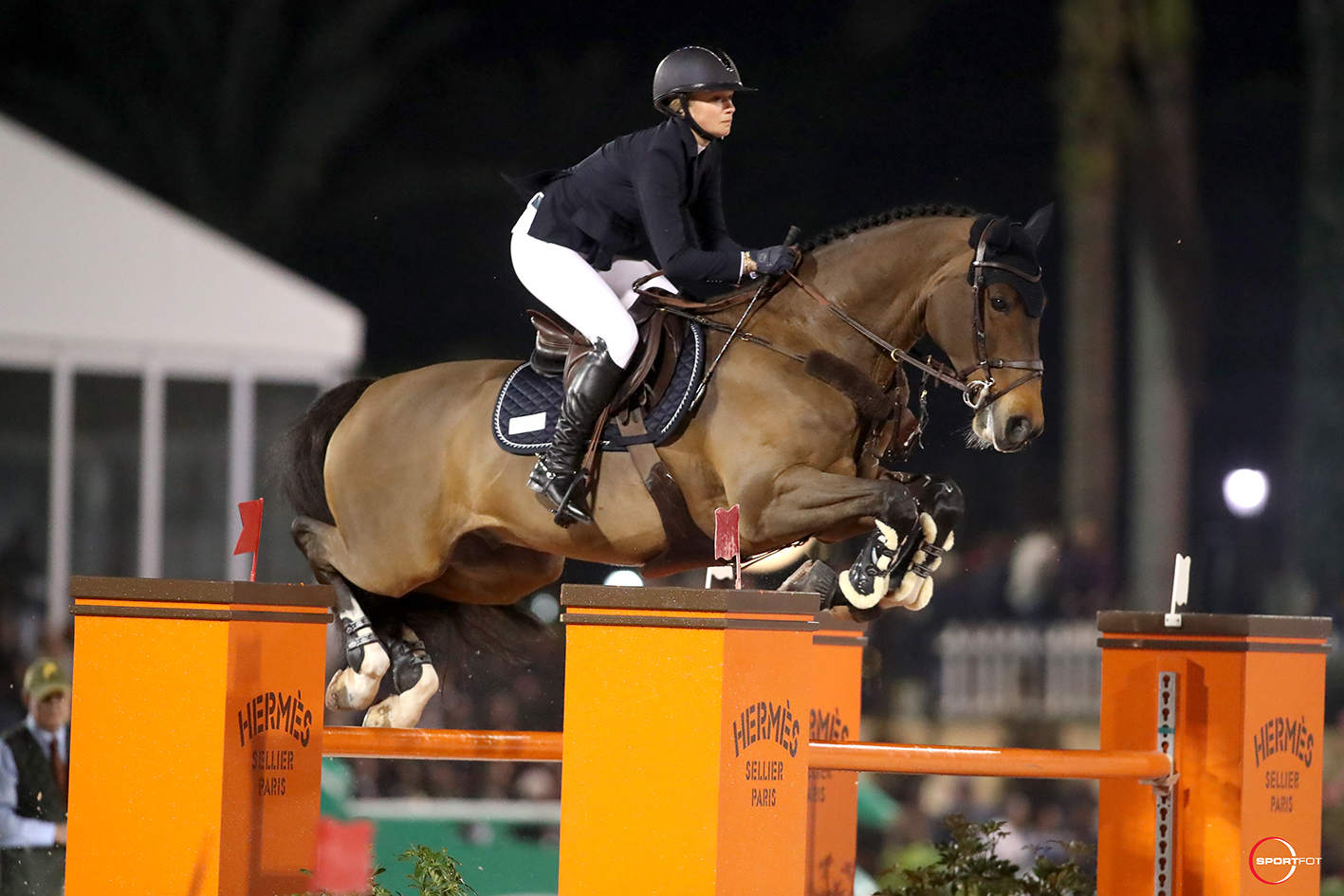 Lillie Keenan and Skyhorse. PC: Sportfot
"I was thinking maybe top five," she admitted. "There were a lot of fast riders. My horse, I would describe him as a big, honest, almost like an equitation horse that can jump 1.60m and jump the moon if you wanted him to. He's very smooth. He's probably not the fastest horse. He proved everyone wrong with that tonight. He went I think faster than he thought he could go himself."
It was a fantastic week for 26-year-old Emily Mason, who was also presented with the Martha Jolicoeur Leading Lady Rider Award. She has only been riding Explosion W, a nine-year-old KWPN gelding by Chacco Blue x Baloubet du Rouet, for six months since she started working at Poden Farm.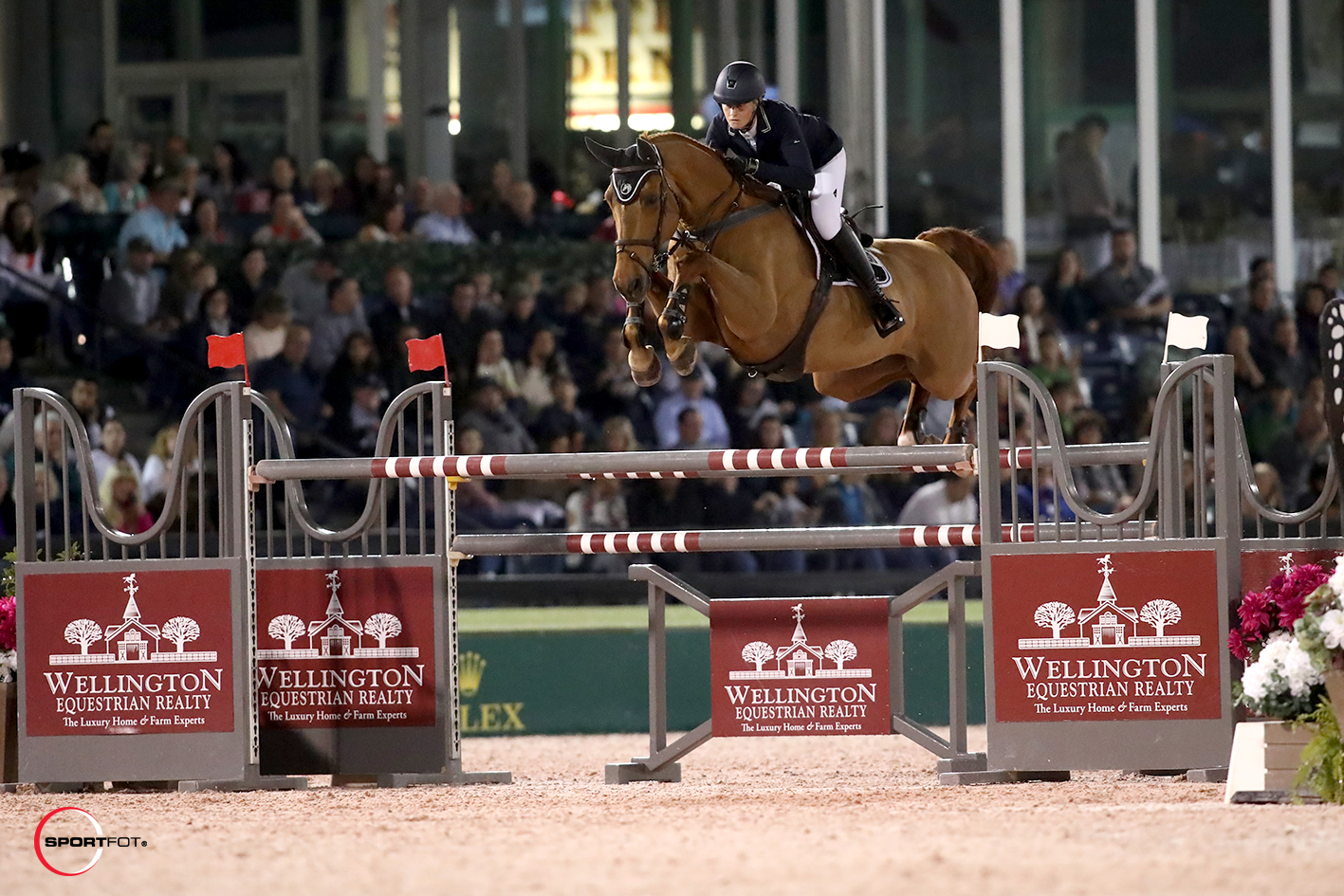 Emily Mason and Explosion W. PC: Sportfot
"This is the first night that he has been under lights, the first proper, big grand prix for him," said the rider from Kent, England. "He jumped really good the first day this week so we thought we'd have a bit of a go today to see how he was. We're really happy with the way he reacted to the atmosphere. Today's really the first time we've properly tried to go fast with him. Everything that I asked him, he did. He's got a really good head on him now. He's going to do big things I hope."