Let the avalanche of presents for you, your barn buddies and you hooved BFF commence: It's kick-off time for Jumper Nation's Daily Gift Guide! Every day between now and December 22, we're going to be hitting you up with a holiday cornucopia of genius gifts. Some to give away, some to ask for, and some to just secretly buy and then look super surprised when they're under the tree on Christmas morning.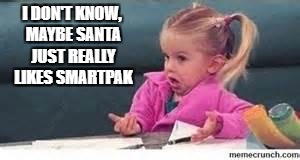 We're kicking things off with an extra special inspiration in honor of your pocket book, because for just the next few days, SmartPak has a bunch of stable blankets, sheets, fleeces, heavy turnouts and coolers on sale!
From overgrown warmblood beasts to the cutest leadline pony in the Western Hemisphere, Smartpak has a little something  for everyone in their sale, with 20% off all SmartPak and Rockin SP brand blanketing gear.
Our personal favorite in the bunch are the SmartPak Stable Blankets which are already a steal at around $100, and with 20% are even better! With a 640 Denier shell and two cozy fill options, this layer is great for in the barn or as an extra layer below a waterproof turnout for the outdoorsy bunch.
And like many items in SmartPak's line, you can customize it with monograms or custom lettering to keep those naughty-list-barn-borrowers out of your business.
The Stable Blankets is available in sizes from 69-87, medium and heavy weight, and three beautiful, classy colors: Navy, Black, and Burgundy.
Check out the full sale using the link below. Happy shopping, and Go Jumping!