Wellington, FL – January 12, 2018 – Laura Chapot (USA) and Out of Ireland out-paced a field of 91 entries to win the $6,000 Bainbridge 1.40m Speed Challenge on Friday, January 12, concluding the third day of competition at the 2018 Winter Equestrian Festival (WEF), held at the Palm Beach International Equestrian Center (PBIEC) in Wellington, FL.
Hunter, jumper, and equitation competition at WEF continues through April 1, 2018, and offers more than $9 million in prize money. Highlight events of WEF week 1, sponsored by Wellington Regional Medical Center, include the $75,000 Battle of the Sexes, presented by Wellington Regional Medical Center, which kicks off the "Saturday Night Lights" series on Saturday, January 13, at 7 p.m., and the $75,000 Rosenbaum PLLC Grand Prix, the first grand prix of the season, on Sunday, January 14, at 2 p.m.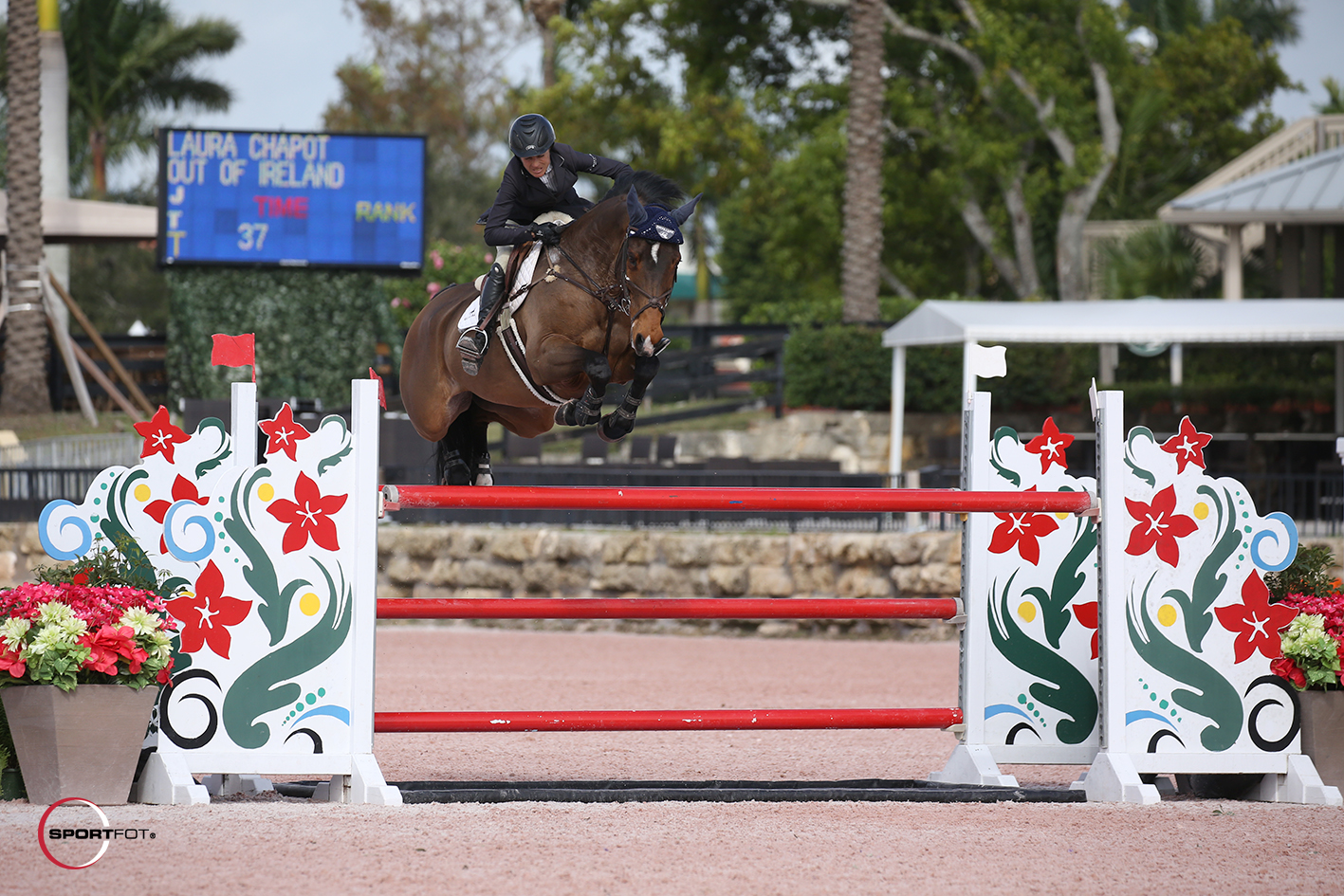 Of the 91 entries in Friday's $6,000 Bainbridge 1.40m Speed Challenge, 16 jumped the Eric Hasbrouck-designed course without fault, but speed was the name of the game, and none proved able to catch Chapot and Out of Ireland, owned by The Edge and Laura Chapot. Chapot and the 11-year-old Anglo European mare went 19th in the order, tripping the timers in 64.681 seconds and setting a time to beat that would go untouched for the remainder of the class.
Finishing in second were Lacey Gilbertson (USA) and Echo D, owned by Seabrook LLC, on a time of 65.252 seconds, while Hunter Holloway (USA) and Eastern Jam, owned by Hays Investment Corp., rounded out the top three on a time of 66.001 seconds. Chapot also finished in fourth with a time of 67.114 seconds aboard Zealous, owned by Mary Chapot.
"[Eric Hasbrouck] set a great track today," said Chapot. "You can't just go for broke. You have to find your rhythm and be smooth and tight. My horse has a huge stride, so you never feel like you're really going super-fast with her; she's just naturally a quick horse. So for her, my plan was just to keep a nice rhythm and keep going from jump to jump, not wasting too much time that way."
That plan proved to be a good one for Out of Ireland, giving the mare the start to the winter season that Chapot was hoping for.
"She's been gradually moving up the ranks. She won a few smaller grand prix last fall, and she's just gotten really, really consistent in the last year," said Chapot, who has had Out of Ireland since 2013 when she acquired the horse from Cian O'Connor. "We decided to start her out here in the 1.40m because she's usually very excited to start after a break. She can be a little bit fresh and ready to go, so I was very pleased with her today. She was confident and smooth in the ring and really on her game. She put her mind to business and did her job."
Phoebe Backman and Destiny Claim Championship in Adult Amateur Hunter Younger Sec. A
The Adult Amateur Hunter Younger division finished Friday afternoon with Phoebe Backman claiming the championship title aboard Destiny, her mount of three-and-a-half years. The pair took first and second place in Thursday's jumping classes, and Destiny claimed second and third over fences and fourth under saddle on Friday with rider Tracey Gorin-Byrne.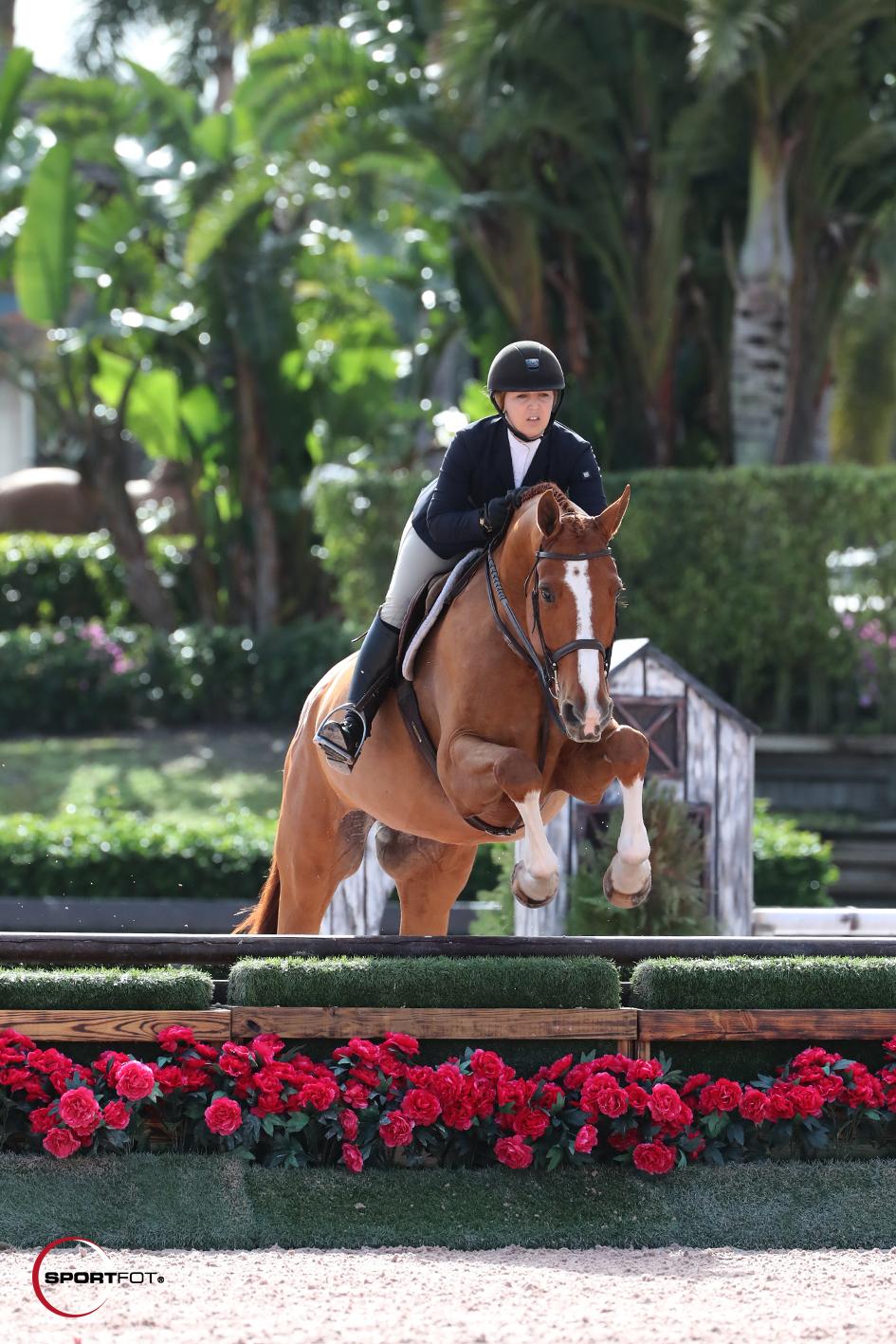 The 11-year-old warmblood gelding is a jack-of-all-trades, having competed as Backman's big equitation, adult equitation, and hunter mount.
Backman said, "He's the horse I know. I have had him forever, and he is always the one I can rely on."
The young rider continued on to detail "Desi's" brave demeanor and simple preparation.
"I let him be in the morning and then just get on him and ride him," said Backman. "There are not really any struggles with him."
Gorin-Byrne showed Destiny on Friday, as Backman had a conflicting school commitment, and confirmed Backman's sentiments about the expressive chestnut.
"He's a great horse, and I love him," said Gorin-Byrne.
Backman, who took a gap year last year, is now attending college at Lynn University while figuring out how to balance schoolwork and riding.
"I do the jumpers as well," said Backman. "I am always excited for WEF. Every day is a new adventure, and you never know what you're going to get. I'm just excited to be with my horses and for them to be the best they can be."
The Winter Equestrian Festival continues tomorrow with the $25,000 Hollow Creek Farm 1.50m Championship Jumper Classic and the $75,000 Battle of the Sexes, presented by Wellington Regional Medical Center. In the hunter ring, championship honors will be awarded to the Osphos Amateur-Owner 36+ Hunters 3'3". For more information and full results, please visit www.PBIEC.com.
Final Results: $6,000 1.40m Speed Challenge
1 OUT OF IRELAND: 2006 Anglo European mare by Lougherne Connaught x Amiro M
LAURA CHAPOT (USA), The Edge & Laura Chapot: 0/64.681
2 ECHO D: 2004 Belgian Warmblood gelding by Orlando x Skippy II
LACEY GILBERTSON (USA), Seabrook LLC: 0/65.252
3 EASTERN JAM: 2009 KWPN gelding by Lexicon x Monaco
HUNTER HOLLOWAY (USA), Hays Investment Corp.: 0/66.001
4 ZEALOUS: 2004 Hanoverian/KWPN mare by Royal Kaliber x Starman
LAURA CHAPOT (USA), Mary Chapot: 0/67.114
5 CHAPLIN: 2006 Holsteiner stallion by Cassini I x Caretino
EDUARDO MENEZES (BRA), Manuel Senderos Fernandez: 0/70.155
6 VAN DE EMMA: 2008 Dutch Warmblood mare by Van de Vivaldi x Almiro Z
PETER WYLDE (USA), Annie Phillips: 0/70.778
7 COLORA: 2009 Holsteiner mare by Contendro I x Lord
THEO GENN (USA), Bridlebourn Stables LLC & Nina Moore: 71.010
8 VITTORIO 8: 2008 Hanoverian mare by Valentino DDH x Ramiro's Bube
IAN MILLAR (CAN), Future Adventures: 0/71.346
9 CON COLEUR: 2009 Hanoverian gelding by Contendro I x Couleur Rubin
REBECCA CONWAY (USA), Blue Hill Farm, LLC: 0/73.622
10 PAPARAZZI: 2009 Irish Sport Horse mare by Pacino
PATRICIA GRIFFITH (USA), Callie Seaman: 0/74.869
11 JASPER VAN'T GESTELHOF: 2009 Belgian Warmblood stallion by Heartbreaker x Darco
KENT FARRINGTON (USA), Kent Farrington and Tanma Corp.: 0/75.497
12 QUI VIVE DES SONGES Z: 2006 Zangersheide stallion by Quaprice Z x Lagos
HEATHER CARISTO WILLIAMS (USA), Holly and Ralph Caristo: 0/76.053