Out of 20 entries in the 1.50m Classic, five went clear over a course designed by Eric Hasbrouck (USA), and three of those were double clear. Taking the win in a time of 36.676 seconds was Todd Minikus (USA) on Carlo, a 2006 Holsteiner gelding by Casall x Landlord owned by North Face Farm.
"You have to add a little gumption to him," described Minikus. "Usually a horse that you push is always faster than a horse that you have to pull. You have to push him the whole way, so that's good."
Despite being the first week of circuit, Minikus said that the class "looked big." However, he stated, "The fact of the matter is, I think this is some of the hardest jumping in the world really. We start right off here. You've got to have quality horses. They've got to be on the top of their game, and you've got to be on the top of your game no matter what class it is here. That's just life in South Florida."
Tina Allen Claims Blue Ribbon Aboard Two Mounts in Osphos® Amateur Owner 3'3" 36 & Over
Saturday's third class of the day came to a close with Tina Allen, from New Canaan, CT, taking first place honors in both Osphos® Amateur Owner 3'3" 36 & Over jumping classes. Allen claimed the first blue aboard her 7-year-old Westphalian mount, Sinatra (below), and rode Galaxy, her 12-year-old partner of six years, to victory in the second round over fences.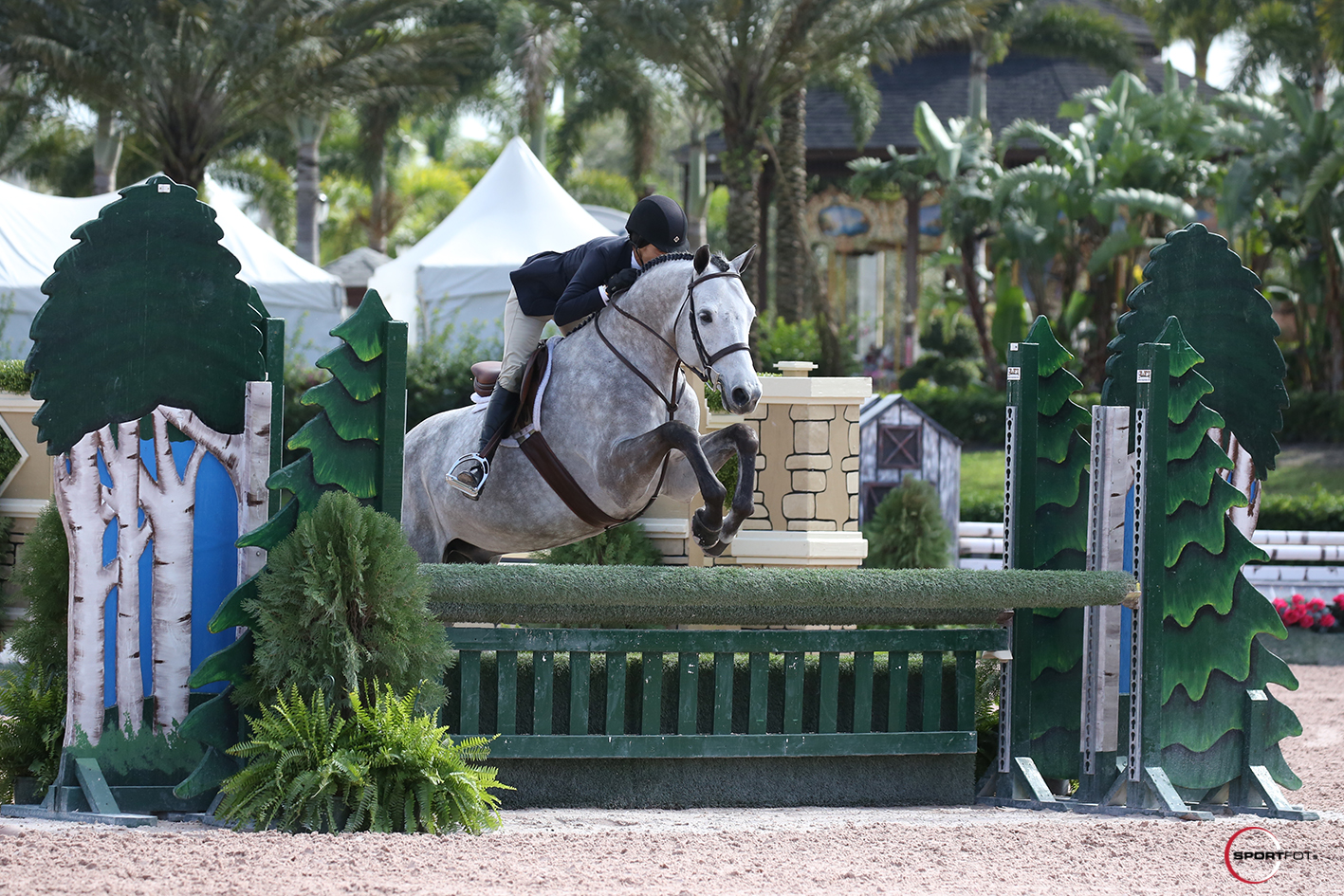 "I'm thrilled about it," said Allen. "I made a mistake on each horse in both classes, but I am very happy to come out on top."
Having recently purchased Sinatra here in Wellington, FL, Allen praised her new grey gelding on his performance.
"This is my third show on him in the 3'3"," said Allen. "I am ecstatic with him. He is so fun to ride and has a huge stride. He gives you confidence when you go in the ring even though he is so young."
The rider added that this is Sinatra's first year competing in the Green Conformation Hunters with her trainer, Brooke Baldwin-De Grazia.
Allen spoke of her other mount, Galaxy (below), with equal fervor as she detailed their six-year bond.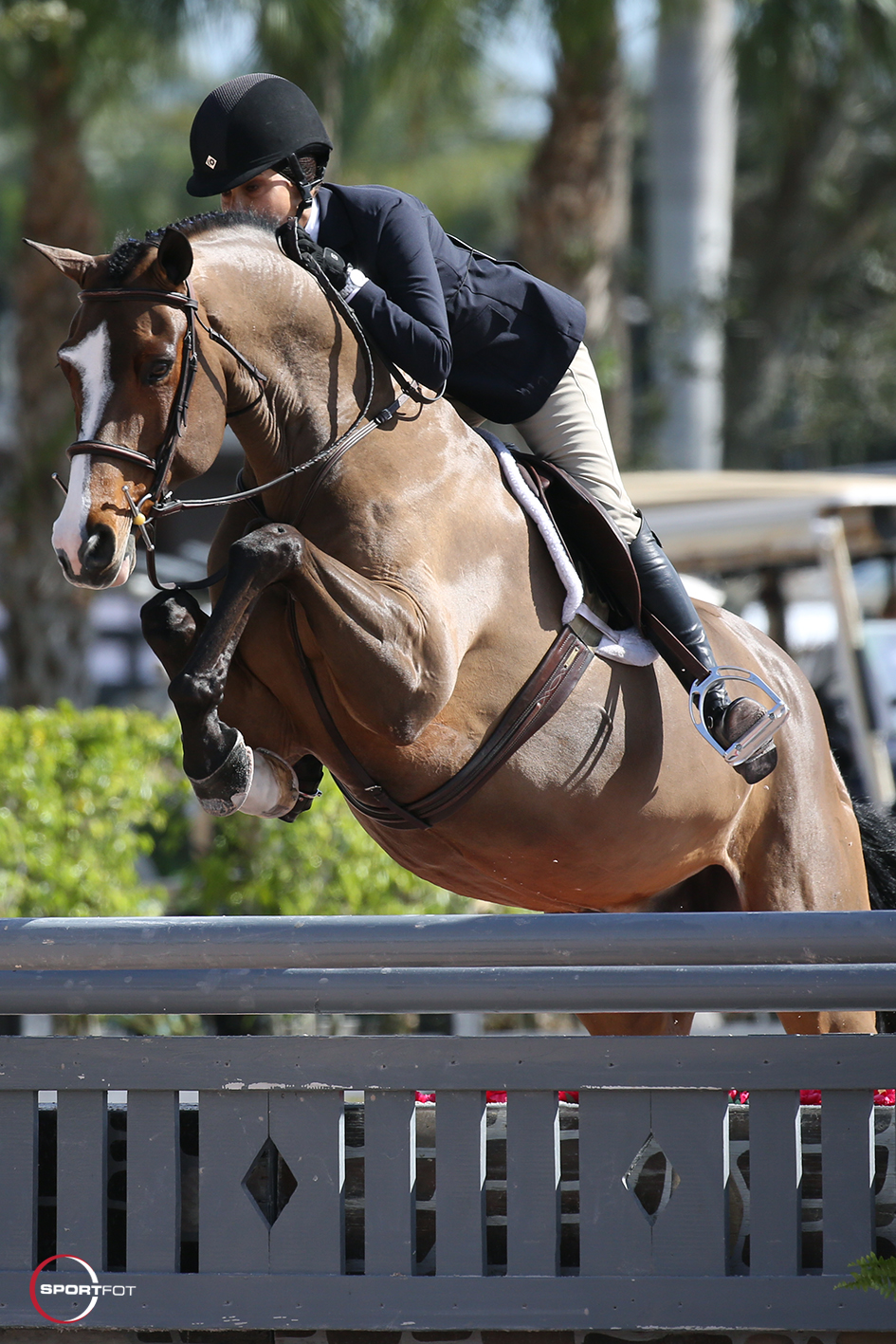 "He is my long-time partner and go-to horse," said Allen. "I started with him in the adults and he was with me when I moved up to the 3'3" [height]."
The Connecticut native has competed at the Winter Equestrian Festival for years and is enjoying being back at WEF 2018 as a competitor.
"You get great competition here, and I love the weather," said Allen. "I enjoy showing against all my friends and it's a nice place for the horses to be for an extended amount of time."
Final Results: $25,000 Hollow Creek Farm 1.50m Championship Jumper Classic
1 CARLO: 2006 Holsteiner gelding by Casall x Landlord
TODD MINIKUS (USA), North Face Farm: 0/0/36.676
2   AMINKA: 2005 KWPN mare by Ephebe For Ever x Heartbreaker
MICHAEL DESIDERIO (USA), David Desiderio & Tranquility Farms: 0/0/37.351
3   IT'S REAL LOVE DV SMIS Z: 2008 Zangersheide mare by C Indoctro x Liberato I
EMILY MOFFITT (GBR), Poden Farms: 0/0/38.312
4   SERPICO: 2008 Irish Sport Horse gelding by ARS Vivendi x Aldatus Z
ANDREW WELLES (USA), Itasca Group LLC: 0/4/37.258
5   BRAVOURE: 2006 KWPN gelding by Tolano Van't Riethof x Goodwill
BLYTHE KAROLYI (USA), Amalaya Investments: 0/4/38.151
6   1019QUIDAM MB: 2005 Oldenburg gelding by Quidam's Rubin x Argentinus
ADRIENNE STERNLICHT (USA), Starlight Farms LLC: 1/78.483
7   DIABOLO LA QUADRA: 2009 Holsteiner
ALONSO VALDEZ PRADO (PER), Alonso Valdez Prado: 3/80.632
8   ARDENTE PRINTANIERE: 2006 SBS mare by Joyeux Ardent x Ramiro
SYDNEY SHULMAN (USA), Jill Shulman: 4/73.074
9   CALAFORNIA: 2007 KWPN gelding by Ultimo x Lux
LAURA CHAPOT (USA), Laura & Mary Chapot: 4/73.999
10 LIROY 30: 2009 Brandenburg gelding by Levistano x King Kolibri
TAYLOR LAND (USA), Pinetree Farms Inc.: 4/74.170
11 TAKE ME 2: 2006 Oldenburger Springpferd gelding by Nintender x Carthago
SCHUYLER RILEY (USA), Wolfstone Stables & Sales Inc.: 4/77.429
12 QUINTENDER LS: 2009 La Silla gelding by Quidam de Revel x Contender
CARLOS MYRRHA (BRA), El Milagro: 5/78.109